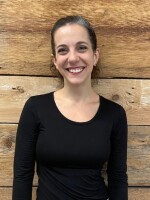 Mikaela Lefrak
Host and Senior Producer, Vermont Edition
Mikaela Lefrak joined Vermont Public in 2021 as co-host and senior producer of Vermont Edition. Her stories have aired nationally on Morning Edition, All Things Considered, Weekend Edition, Marketplace, The World and Here & Now. A seasoned local reporter, Mikaela has won two regional Edward R. Murrow awards and a Public Media Journalists Association award for her work.
Prior to joining Vermont Public, Mikaela was a reporter and host at WAMU, the NPR member station for the greater Washington, D.C. region. During her career she has also worked at The New Republic, PRI's The World and WGBH Boston, and served as an AmeriCorps VISTA volunteer in Oakland, California.
Mikaela received her bachelor's degree from Middlebury College and her master's degree in broadcast journalism from Boston University. She lives with her husband and daughter in Burlington.
Ahead of Rosh Hashanah, the Jewish new year, Burlington kids learned how to blow a shofar.

Host Mikaela Lefrak speaks to the authors of a new book that tells the story of a Bennington landmark.

The Scott administration on Wednesday said it will be able to partially extend a rental assistance program that was set to end for most households starting in December. That's after it found $20 million to put toward the program.

Host Mikaela Lefrak speaks with Vermonters affected by the end of VERAP, the emergency rental assistance program, and advocates trying to keep them housed.

Host Mikaela Lefrak talks with Brenda Siegel, the Democratic nominee for governor, about her priorities as a candidate and her campaign against incumbent Gov. Phil Scott.

This hour, we discuss how drought is affecting yields for farmers, particularly in the southern part of the state.

Barre author Andrew Liptak speaks to host Mikaela Lefrak about his recently published book on cosplay.

Host Mikaela Lefrak talks with lawyers about recent changes to Vermont's court system and their effects on criminal justice.

After more than 30 years of thrilling audiences at the Champlain Valley Fair in Essex Junction, hypnotist Steve Bayner is planning to retire.

Host Mikaela Lefrak talks with canning experts about the ins and outs of preserving fruits and vegetables, as well as some inventive recipes.