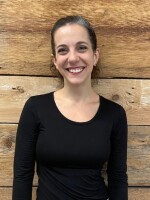 Mikaela Lefrak
Co-host & senior producer, Vermont Edition
Mikaela Lefrak joined VPR in summer 2021 as co-host and senior producer of Vermont Edition. Prior to that, she was a reporter and host at WAMU, the NPR member station for the greater Washington, D.C. region. She hosted What's With Washington, a podcast exploring the quirks and mysteries of the D.C. region, and 51st, a podcast miniseries about D.C.'s fight for representation. Her reporting has aired nationally on Morning Edition, All Things Considered, Weekend Edition, Marketplace, The World and Here & Now. She has won two regional Edward R. Murrow awards and a Public Media Journalists Association award for her work.
Lefrak was formerly an editor at The New Republic, where she produced politics and culture podcasts. She has also worked as a producer at PRI's The World and WGBH Boston, and served as an AmeriCorps VISTA volunteer in Oakland, California.
Lefrak is a graduate of Middlebury College, and received a master's degree in broadcast journalism from Boston University. Outside of work, she loves watching baseball, playing softball, reading, biking and scouting out the best places in town to buy french fries.
This hour, University of Vermont professors of political science and history talk with host Mikaela Lefrak about the Supreme Court's decision that reverses Roe v. Wade.

This hour, host Mikaela Lefrak speaks with attorney David Sleigh and Leslie Gensberg, widow of attorney Bob Gensberg, about their yearslong efforts to free one "Gitmo" detainee, Abdul Zahir.

Co-host Mikaela Lefrak talks with VPR's Myra Flynn and storyteller Ferene Paris Meyer about Juneteenth and what it means to them.

This hour, host Mikaela Lefrak will talk to local bike and tourism experts about Vermont's growing trail networks and other cycling trends.

Vermont Edition hosts Connor Cyrus and Mikaela Lefrak reflect on answers from four recent primary debates with the Republican and Democrat candidates for Vermont's U.S. House and U.S. Senate seats.

The Montpelier-based writer and publisher joins Vermont Edition to discuss her new ABC book, which comes with tips for reducing carbon emissions.

Host Mikaela Lefrak talks with a Vermonter who found a threatened orchid species in Chittenden County, and a state botanist about the flower's significance.

This hour, Vermont Edition co-host Mikaela Lefrak and Seven Days staff writer Chelsea Edgar moderate a debate between the Democratic candidates for the U.S. House.

This hour, Mikaela Lefrak moderates a debate with the three Republican candidates for the U.S. House.

This hour, host Mikaela Lefrak talks with VPR reporter Liam Elder-Connors about his exclusive interview with Bill Stenger before Stenger goes to prison on a federal charge related to the EB-5 fraud.