'I Feel Like A Superhero': Pittsford Librarian Gets Books To Her Patrons
Libraries across Vermont have had to close at a time when many people are hungrier than ever for books as an escape. But Shelly Williams, who directs the Maclure Library in Pittsford, has found another way: She packs books in brown paper bags for curbside pick-up and at-home delivery.
Maclure Library is a gorgeous, orange brick building that sits along Route 7 where traffic slows and elbows through a busy part of town. It's right across from the post office and kitty-corner from a popular local grocery store. Williams knows just about everyone.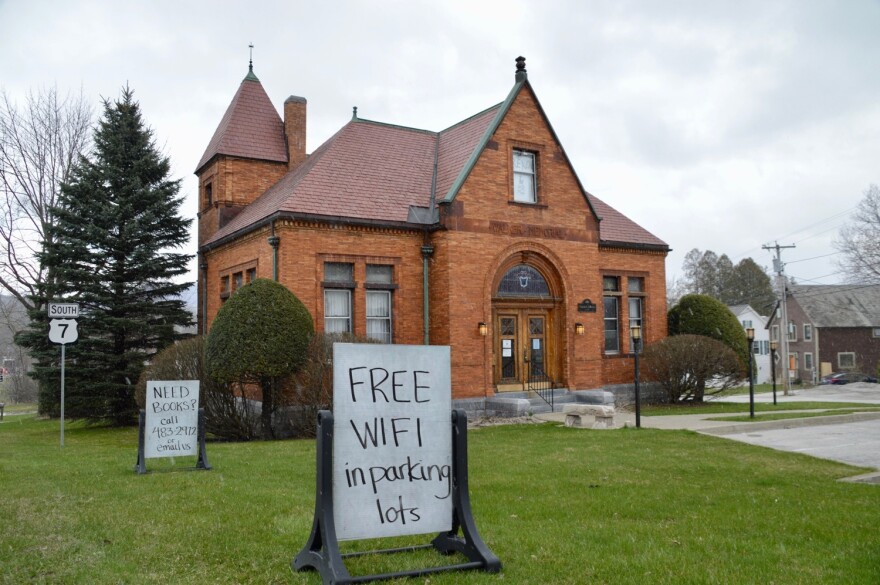 She started by making up a care package for the senior apartment complex next door called The Manor.
"I just packed up a bunch of books, as many large print as I could get my hands on, a lot of movies, I got some audios [books], and just packed it up," Williams said. "I just put the boxes out in front of The Manor, and I've had so many of them walking by saying, 'Thank you, thank you!'"
When schools closed for the year, she realized many of the kids who normally come to the library after class wouldn't be able to, so she started making packages for them, too.
It's a small town, and Williams said word of her efforts began to spread. People began to email her with requests.
She dropped off books to seniors on her way home, and then started bagging up orders for pick-up. She uses the library's large vestibule, which is protected from the elements behind beautiful, hand-carved wooden doors.
"People are thrilled, they really are, and more and more, I think now that this is becoming slightly normal for people, they do want to get back into reading books," Williams said. "I mean, you can only read the news so much before you just need to escape. Even people with Kindles are tired of being on their devices, and just want a book."
She adds, laughing: "I mean, books are guilt-free!"
Williams is 48, and her eyes crinkle with a smile that's hidden behind her pink and white mask. She's worked at the library for nearly eight years, and she said she misses the buzz of activity that normally fills it. So reconnecting with patrons feels good.
Standing between the library's inner and outer front doors on a recent Friday morning, she finished assembling that day's pick-up orders, dropping a thriller for one patron and several picture books for another into separate paper bags. She wore blue gloves, had disinfectant wipes nearby, and wrote the person's first name and last initial before adding a big smiley face to the label. She then stapled them to each bag.
"We haven't had any instance of anybody taking anybody else's books, which is great," Williams said.
In addition to the neatly stapled bags, Williams prepared several large boxes, one of which had a plastic bag filled with arts and craft supplies.
"I am packing up a lot of books so that parents can home-school. Those are the big orders, those are the boxes," she said. "And a lot of times I'll put in movies, and since we have food from the food shelf, I'll throw in some microwave popcorn. You know, it can't all be school, and it's almost like 'Oooo! We got a box from the library!'"
Before she left, Williams sent out an email to let patrons know when their orders are ready. In the inner doorframe, yellow sticky notes expressed thanks with notes saying "Librarians Rock!" and telling Williams know she's making one particular 2-year-old and his family very happy.
"Honest to goodness, I feel like a superhero, especially when I have like all the kids are at the window waiting for me to drop off the books," Williams said. "This feels good."
But then, she added, this is their library.
"The books belong to the community," Williams said. "I'm just hired to keep 'em organized and get them out the door."