'I was so clueless': Flood-prone homes in Vermont may not come with a warning
This story, by Report for America corps member Carly Berlin, was produced through a partnership between VTDigger and Vermont Public.
If you're looking to buy a house in Texas, the seller must disclose if it has flooded before, and whether it's in a federally designated floodplain. In Louisiana, the seller must tell you if they had flood insurance on the house — along with whether they've ever filed a claim, and how much their premium costs. And in New Jersey, if your landlord doesn't mention that an apartment is in a federally designated floodplain, you can terminate your lease without penalty.
But if you're looking to buy or rent in Vermont, you aren't entitled to any of that information.
Vermont is among a minority of states that lack a mandatory flood risk disclosure law for real estate transactions, leaving prospective homebuyers and renters with limited information as they decide where to live.
After catastrophic flooding rocked the state this summer — and with more extreme weather events fueled by climate change expected in the future — Vermonters are left piecing together what risks they face as they put some of their largest investments on the line. And those thinking about selling a home that flooded are considering what they need to tell the next buyer.
In a state-by-state analysis of flood disclosure laws by the Natural Resource Defense Council and Columbia Law School, Vermont got a failing grade.
"Vermont, in comparison to other states, is a poor actor when it comes to requiring flood disclosure," said Joel Scata, senior attorney with the council's climate adaptation team.
Most other states in New England, including Maine, Massachusetts, and New Hampshire, also lack mandatory disclosure requirements, according to NRDC, which advocates for states to enact stronger laws. "The more informed a person is about the natural hazards that they face — whether that be in terms of their home, or their community — the better they are able to protect themselves," Scata said.
In its own analysis of state flood disclosure laws last year, the Federal Emergency Management Agency also rated Vermont on the low end of the spectrum: a zero out of 10 possible flood risk disclosure measures surveyed.
FEMA found that states with stronger disclosure requirements — like Louisiana, Texas, and South Carolina — often have higher rates of residents with flood insurance policies. FEMA manages the federally subsidized National Flood Insurance Program, which provides most flood policies across the country. Some states mandate that sellers disclose whether they have received post-flood disaster aid that would require a new owner to maintain flood insurance going forward.
Vermont's own Flood Ready website notes the state's lack of a flood risk disclosure requirement as a problem — one that puts people looking for housing here "at a serious disadvantage when it comes to knowledge of potential flood risk." That lack of knowledge "could easily translate" into fewer people choosing to purchase flood insurance, the site notes.
Without flood insurance, Vermonters are left with fewer resources to recover after a flood. Most typical homeowner's insurance policies don't cover flood damage. Flood insurance can provide larger payouts than post-flood disaster assistance from FEMA.

Realtor rules
In lieu of a mandatory disclosure requirement, there are still ways for Vermonters to get information about flood risk when buying a home. In many sales, the previous owner fills out a Seller's Property Information Report, which includes questions about past or present "flood problems" or damage, as well as whether the property is located in a federal flood hazard zone.
The form is voluntary, though it's a "standard of practice" for realtors in Vermont to use it, said Peter Tucker, the director of advocacy and public policy for the Vermont Association of Realtors. The form can also become mandatory when a buyer agent adds it as a condition to a contract, Tucker said.
And, under Vermont Real Estate Commission rules, licensed agents must disclose all "material facts" within their knowledge to a prospective buyer, including a "a recognized or generally accepted hazard to the health or safety of a buyer or occupant of the property." While flood history isn't explicitly named, "I don't think there's doubt that a flood is a material fact," Tucker said.
Even with these real estate industry backstops, though, not all sales go through licensed realtors. Comparing property transfer tax records with real estate transactions, Tucker estimated that realtors were involved in a little over two thirds of residential sales in Vermont last year.
Renters, meanwhile, are entitled to even less information about flooding. A 2022 report from the thinktank Next100 found that only a handful of states — Vermont not among them — require tenants be notified of flood risk or flood history, leaving renters reliant on whatever information their landlord chooses to disclose.

A morass of paperwork
Kristin Warner didn't use a realtor when she bought her condo on Franklin Street in Montpelier in 2021. She said she didn't recall seeing the seller's report, either. She bought the home through the Shared Equity Program with Downstreet Housing & Community Development, which gave her a grant for her down payment. "It is the only way that I would've been able to purchase a home," she said.
Warner grew up in Montpelier, in Section 8 housing up on a hill. When the North Branch of the Winooski River ran high, she remembered, it tended to breach the bank on the opposite side, flooding homes on Elm Street, but never on Franklin.
She didn't recall anyone mentioning a risk of flooding when she bought the place: not the condo association, not Downstreet, not the bank, not the prior owner.
But then, on July 10, the water on Franklin started to rise. It rushed down the condo's driveway, up several feet on the side of the building. The basement filled up. It smelled terrible, laced with sewage. Once the water receded, Warner hauled out piles of her soaked belongings, helping out her elderly neighbors who couldn't do the physical work.
In the process, Warner started to wonder: Should she have been warned about the risk of flooding when she bought the place? She started poring over documents from the sale, and found, in tiny font in the middle of her 20-page appraisal, a checked box: Yes, the property was in FEMA's "Special Flood Hazard Area." FEMA's 2013 maps of Montpelier seemed to confirm that her home was in the 100-year flood zone.
But as she went deeper down the rabbit hole, she found an amendment to FEMA's map, from 2016: The agency had removed the condo property from its high risk zone.
Carolyn Ridpath, president of the Franklin Square Homeowners Association, had asked an engineer to look into whether or not the property was in FEMA's 100-year floodplain, which ultimately led to the change. When the property was in the high risk zone, condo owners were required to maintain flood insurance with a federally-backed mortgage, and that could be cost-prohibitive. But moving the property out meant owners could decide whether or not they wanted to have flood coverage, she said.
Still, there was no mention of potential for flooding in the condo association's rules or bylaws suggesting owners may want to consider getting flood coverage. Downstreet Executive Director Angie Harbin wrote in an email that during renovations to the condos in 2019, they were "elevated above the flood plain," though Ridpath said she wasn't aware of that. Harbin added that Downstreet will share information about the basement flooding in July to future buyers.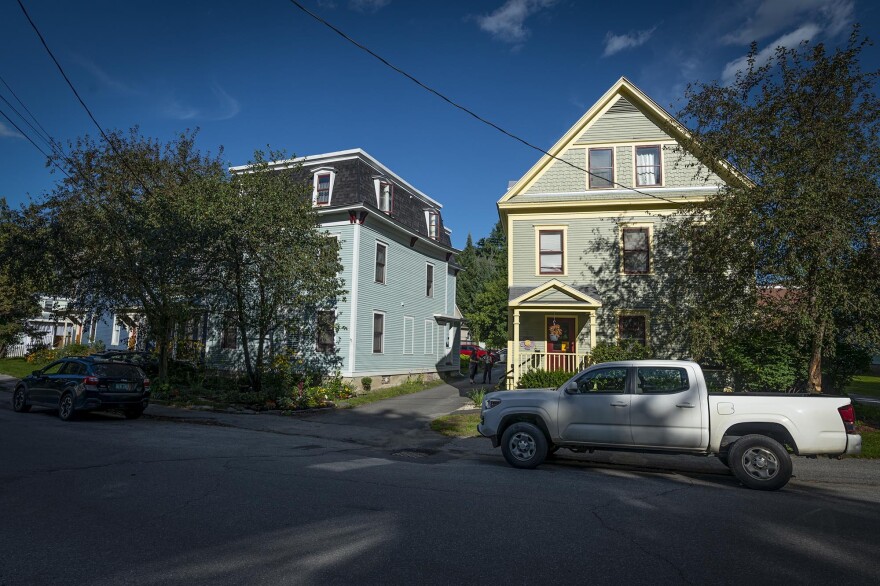 Warner only learned about this back-and-forth about the home's risk of flooding because she'd gone digging. And even if FEMA didn't place her in a high risk flood zone anymore, that didn't mean her home was safe. The agency's maps have been widely criticized for being outdated, incomplete, and for failing to accurately reflect the increasing flood risks associated with climate change. The nonprofit climate research firm First Street Foundation, which accounts for climate change in its projections, placed Warner's home at extreme flood risk.
"I feel really naive, and inexperienced as a homeowner, but I'm an intelligent person," Warner said. "And if I was so clueless, you know, in this process, then I imagine that others are and would be as well."

Scarlet letter?
Given Vermont's hot real estate market, some worry that homebuyers could be foregoing existing safeguards.
"Buyers should be doing their homework, but a lot of times, that just doesn't happen. We saw in 2020, 2021, 2022 that people were just buying houses off of cold calls," said state Rep. Tom Stevens, D-Waterbury, who chairs the House Committee on General and Housing.
Anticipating that the state will face more frequent flooding in the future, Stevens said he is considering putting forth a mandatory flood disclosure bill in January for lawmakers to determine whether or not the measure is necessary for Vermonters.
But he acknowledged that homeowners could be anxious that a mandated disclosure would make their home less attractive to a potential buyer — and drag down their sale price.
"People are going to feel like you're putting a scarlet letter on their house," he said.
State Sen. Kesha Ram Hinsdale, D/P-Chittenden Southeast, who chairs the Senate's Economic Development, Housing & General Affairs Committee, also expressed concern that a mandatory disclosure could have unintended consequences for low-income and middle class homeowners, limiting the amount they might be able to sell their homes for — and making it more difficult to find somewhere else to live.
"Unless we're going to build more housing stock outside of the floodplain, we can't just punish people who live where they currently live," she said.
But Hinsdale said she is "all ears about this tool" and is "willing to entertain any and all ideas to keep Vermonters safe, and to start to incentivize smart growth that is either flood-hardened and resilient or out of the flood zones." She also called on the federal government to update its flood maps, a process FEMA officials say is underway.
The worst of the flooding at Kristin Warner's condo turned out not to come from the Winooski directly, but from a sewage backup in the basement.
"We were lucky enough — and this sounds terrible — that it was in fact sewage," she said, laughing. Lucky because the condo association's property insurance will cover the bulk of the damage.
Even though insurance might not tie the problem to the flood, the backup was triggered by flooding, Warner said — and that makes her worry about the risk of more flooding in the future. She'd been drawn to the neighborhood because it felt safe, and familiar. She knew the family who had owned the home before her and went to slumber parties at the house as a kid. Her pre-teen daughter could walk downtown on her own.
"Now, the river so close to us just feels really unstable," she said.
So she's contemplating selling the home back to Downstreet — and has decided that she'll need to tell the next buyer about the potential for flooding. Something she wished she had known when she bought it.
Have questions, comments or tips? Send us a message.
Updated: August 28, 2023 at 12:18 PM EDT
Clarification: This story and several captions have been updated to clarify the nature of the flooding in Kristin Warner's condo, and the process by which the condos were removed from the FEMA floodplain.