News roundup: Vermont's COVID death toll continues to rise, 548 lives lost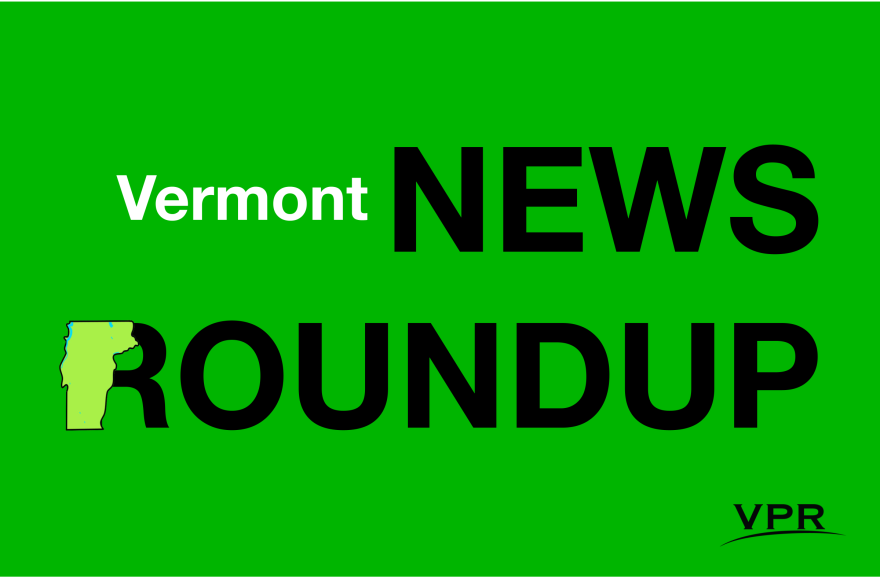 Vermont reporters provide a roundup of top news takeaways about the coronavirus, the winter storm, dwindling organic dairy farm numbers and more for Thursday, Feb. 3.
Want VPR's daily news in podcast form? Get up to speed in under 15 minutes withThe Frequency every weekday morning. How about an email newsletter?Add our daily email briefing to your morning routine.
While Vermont's pandemic state of emergency has ended, the omicron variant is now circulating around the state.Click here for the latest on new cases, and findthe latest vaccination data online any time.
1. State officials report three more Vermonters have died from COVID-19
Three more Vermonters have died from COVID-19, according to state officials. Vermont's pandemic death toll is now 548 lives.
According to the state's COVID dashboard, 91 people are currently hospitalized with the virus, including 23 people in the ICU.
Officials recorded an additional 574 COVID cases Thursday. The state's seven-day positivity rate has decreased to 9%.
- Elodie Reed
State officials continue recommending boosters
The state Health Department is stepping up efforts to encourage all Vermonters 12 and older to get a COVID booster, because there's growing evidence that they're effective in reducing the severity of the virus.
Roughly 40% of eligible, vaccinated Vermonters are not boosted.
Health Commissioner Dr. Mark Levine says it's critical for that group of roughly 200,000 people to get the next shot.
"While getting vaccinated provides a lot of protection compared to those who are unvaccinated, a booster makes a significant difference," he said. "A booster gives you much greater protection against the worst effects of COVID-19 – severe illness, hospitalizations and death."
Last week, roughly 5,000 Vermonters received a booster.
- Bob Kinzel
State official clarifies definition of a presumptive contact in school
A state official is clarifying the definition of a presumptive contact in school.
It's anyone in a classroom where a teacher or student has tested positive for COVID. That means cafeterias and buses don't count.
Wednesday onVermont Edition, Vermont Health Commissioner Dr. Mark Levine explained why public schools moved from contact tracing to notifying presumptive contacts.
"We aren't as concerned about it because a lot of procedures are in place. Think about the number of adults right now that are eating in restaurants. Have restaurants been a place for transmission? On occasion, yes," he said.
Levine said cafeterias and buses were not identified as places of significant transmission when the state did traditional contact tracing.
He said most positive cases in schools are coming from the community or household contacts.
- Connor Cyrus
State officials say resources will shift toward recovery from pandemic
State officials say COVID numbers are improving, and the state will be shifting resources toward recovery from the pandemic.
Jenney Samuelson is interim Secretary of Human Services. She says mental health support will be in high demand among all age groups.
"Increased isolation, challenges in accessing timely care, and longer hours at work, and the overall stress of living and acting during uncertain times, has led to an increase in mental health and substance misuse concerns," she said.
Samuelson says mental health stressors are accumulating among children. She says the state will need to balance resources to address COVID and non-COVID health impacts on Vermonters.
- Howard Weiss-Tisman
2. Storm expected to sweep Vermont starting Thursday
Vermonters may need to budget some extra time for their upcoming commutes.
The National Weather Service says a winter storm warning is in effect for most of the state, from Springfield to the Canadian border, from 7 a.m. Thursday to 1 p.m. Friday.
Thursday morning and afternoon, 1-3 inches of snow are expected. The greatest travel impact is forecast for Thursday night and Friday morning, when another 6-10 inches of snow are expected.
The Weather Service predicts the region around Stowe will see the most snowfall.
- Kevin Trevellyan
Amtrak cancels most passenger rail service in Vermont due to winter storm
Amtrak has canceled most passenger rail service in Vermont due to the winter storm.
Ethan Allen service northbound and southbound will not operate today.
Northbound Vermonter service has also been canceled, though the southbound Vermonter will be operating on its normal schedule.
- Lydia Brown
3. Number of Vermont organic dairy farms continues to dwindle
Five of Vermont's organic dairy farms stopped shipping milk in the final months of 2021, new state data show.
According to the Vermont Agency of Agriculture, 162 organic dairies remain in the state. That's five fewer farms than in the fall of 2021.
This is not a new trend; the number of organic dairy farms has been decreasing in Vermont since 2016.
In August 2021, one of the state's three main organic dairy processors, Horizon Organic, announced it would be cutting ties with nearly 30 Vermont farms.
Horizon Organic's parent company, Danone North America, recently extended those contracts until February 2023.
- Elodie Reed
4. Lawmakers pushing back on Scott administration's proposed $50 million for cell towers in rural areas
The Scott administration wants $50 million to build cell towers in rural parts of the state. But some lawmakers are pushing back on the idea.
Gov. Phil Scott wants to use public money to build 100 cell towers, which the state would then lease to cell phone companies.
In a House committee meeting recently, Dover Rep. Laura Sibilia said the cell companies should pay for their own infrastructure.
"This is going to be a really, really heavy lift for me, in terms of justifying this kind of public investment in these companies," Sibilia said.
Public Service Commissioner June Tierney told lawmakers the investment was crucial.
"I think that this is another one of those, you either, you know, fish or cut bait," Tierney said. "If Vermont wants to get robust cell coverage, we are going to have to make our peace with essentially closing market gaps, the way we are doing with broadband."
The state says it wants to build the towers along the most traveled rural highways where cell service drops out.
- Howard Weiss-Tisman
Health care board asks state lawmakers for hospital funding
The Green Mountain Care Board, an independent body tasked with controlling health care costs in Vermont, is asking the Legislature for support.
The board says hospitals are losing too much money, and after their COVID-relief funding runs out, hospitals could be forced to drop services, or even close.
The board this week asked the Legislature for up to $5 million to support its so-called sustainability planning for hospitals.
Late last year, the board heard from consultants who said Vermont's hospital system could be reduced to make it more efficient.
A spokesperson for the Vermont Association of Hospitals and Health Systems says he's willing to look into reform efforts, but will not support the idea that beds should be closed or moved to save money.
- Howard Weiss-Tisman
State lawmakers support lower entry fees for small-scale cannabis growers
The Vermont House on Wednesday gave approval to a cannabis fee bill designed to encourage the development of small cultivators throughout the state.
Under the policy, the annual fee for the smallest indoor grower would be $1,500, while the fee for the largest grower would be $75,000.
James Pepper, chair of the Vermont Cannabis Control Board, is hoping that the vast majority of the state's overall cannabis production can be supplied by growers who are currently selling on the illegal market.
"Trying to create a regulatory environment that invites them into a regulated space that allows them to kind of shift their illegal grow into a legal one," Pepper said.
The state's retail cannabis marketplace is scheduled to open in October.
- Bob Kinzel
5. Leahy calls for bipartisan Supreme Court nominee
Sen. Patrick Leahy is calling on President Joe Biden to nominate a new U.S. Supreme Court justice capable of winning bipartisan support in the Senate.
Leahy is one of the few senators who has been part of the confirmation process for every current justice on the bench. He notes that some of the past hearings have been more bipartisan than others.
"I hope we go back to the day where people would be confirmed with votes from both parties instead of putting in somebody that is just for the right or just for the left."
Biden has pledged to appoint a Black woman to replace retiring Justice Stephen Breyer.
The president is expected to announce his court nominee by the end of the month.
- Bob Kinzel
6. Vermont State Police seeking information in Swanton suspicious death investigation
Vermont State Police are investigating a suspicious death in Swanton.
Police say they were notified shortly after 4:30 a.m. Wednesday that a man was dead inside a home.
First responders found the man dead at the scene.
Police say the preliminary investigation indicates that this was not a random act.
An autopsy will be performed.
Anyone with information that could help with the investigation is asked to contact Vermont State Police in St. Albans.
- Associated Press
Elodie Reed and Kevin Trevellyan compiled and edited this post.
Have questions, comments or tips?Send us a message or tweet us@vprnet.