News roundup: UVM research shows nearly half of Vermonters experiencing anxiety, depression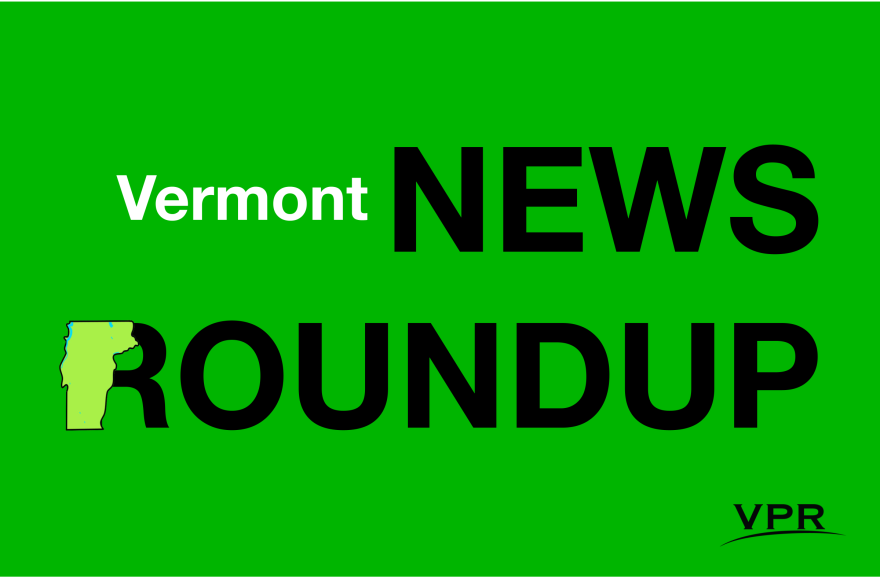 Vermont reporters provide a roundup of top news takeaways about the coronavirus and more for Thursday, Jan. 20.
Want VPR's daily news in podcast form? Get up to speed in under 15 minutes withThe Frequency every weekday morning. How about an email newsletter?Add our daily email briefing to your morning routine.
While Vermont's pandemic state of emergency has ended, the omicron variant is now circulating around the state.Click here for the latest on new cases, and find the latest vaccination data online any time.
1. Vermont officials report 1,115 new COVID cases Thursday
Vermont health officials reported 1,115 new COVID cases Thursday.
A total of 115 people are hospitalized with the disease, with 27 in the ICU.
The full set of data for today is delayed, according to the Health Department, due to "a widespread server issue."
- Elodie Reed
New reported COVID cases down this week compared to last
The number of new reported COVID cases are down this week compared to last in every Vermont county.
That's as PCR testing increased slightly, according to state data released Wednesday.
The state reported nearly 11,000 new cases this week.
The trend follows regional data, showing that case growth across New England, Quebec and New York appears to be slowing.
COVID hospitalizations in the state continue to grow, surpassing all-time highs.
- Lexi Krupp
Vermont hospitals caring for record number of COVID patients
Vermont hospitals are caring for a record number of COVID patients this week.
And those numbers are expected to grow, says Dr. Trey Dobson of Southwestern Vermont Medical Center in Bennington.
"It is unknown whether demand will exceed capacity. We're near that threshold — we're near the point where the needs of the community exceed our resources and staff," he said.
He expects hospitalizations will peak several weeks after cases.
For now, the hospital does not have more patients than it can handle. Staff continue to do elective surgical procedures like knee replacements.
- Lexi Krupp
2. UVM research shows nearly half of Vermonters experiencing anxiety, depression
New research conducted by the University of Vermont has found that rates of depression, anxiety and hypertension have increased since the beginning of the coronavirus pandemic.
Nearly half of Vermonters surveyed by researchers say they're experiencing depression or anxiety.
Jennifer Laurent is a researcher at UVM. She says the survey also found higher rates of hypertension among people experiencing food insecurity.
"It certainly points to a burden of health care, a burden of chronic disease, that we're not really prepared to deal with," she said.
Forty-three percent of Vermonters say they've gained weight over the past two years, according to the survey.
And one-third of food-insecure Vermonters say they're eating less fruits and vegetables.
- Pete Hirschfeld
3. Fed'l gov't issues final guidelines for spending latest round of COVID relief money
The federal government last week issued its final guidelines for spending the latest round of COVID relief money.
Ted Brady is director of the Vermont League of Cities and Towns, and says the earlier draft rules for the American Rescue Plan Act, or ARPA, had more restrictions and reporting requirements on spending the money.
"The final rule the Treasury issued really gave maximum flexibilities to communities across Vermont in how they're going to spend this $200 million dollars," Brady said.
The new rules will allow Vermont towns to more easily invest in broadband and wastewater projects without worrying about meeting federal reporting and qualification guidelines.
- Howard Weiss-Tisman
4. Vt. faith leaders thinking about prepping for threats following Texas synagogue standoff
Following a standoff situation at a Texas synagogue, some Vermont faith leaders are thinking about how best to prepare for threats.
Four people escaped Saturday after being held hostage for hours at the Congregation Beth Israel synagogue in Colleyville, Texas.
The synagogue's rabbi credits security training for helping them survive.
Rabbi Amy Joy Small of Ohavi Zedek Synagogue in Burlington told Vermont Edition Wednesday she worries that attacks on places of worship are becoming far too common.
"There has been a dramatic increase in anti semitic rhetoric and actions around the country," Joy Small said. "The experience of the Jewish community is unique because of the rise of antisemitism, and our synagogues feel quite vulnerable."
Support for the synagogue and Jewish communities around the country poured out over social media following the incident.
- Marlon Hyde
5. Vermont has doled out about half of federal rental assistance funds
Vermont has doled out more than $50 million dollars in rental assistance to about 8,400 households since April.
The $110 million program is funded by federal coronavirus relief dollars and administered by the Vermont State Housing Authority.
Tyler Maas with VSHA, says the state's used about half those funds.
"Which is appropriate, since the program is exactly halfway through," Maas said. "We started in April, and here we are in January exactly nine months later, and it ends at the end of September, so halfway through the program we've spent half the money."
Funds from the program can be used to cover back and future rent as well as utility bills. Tenants must meet requirements, including income eligibility and show their finances have been hurt by the pandemic.
- Liam Elder-Connors
6. Shaftsbury man alleging excessive force by state police suing for $25 million
A Shaftbury man who alleges he was subject to excessive force during an arrest last year is suing Vermont State Police for $25 million.
The federal lawsuit, filed Jan. 10, says VSP trooper Robert Zink punched Christopher Campbell in the head while Campbell was handcuffed. The suit alleges that other troopers at the scene did not intervene.
Zink is also facing a misdemeanor assault charge over the incident. He pleaded not guilty to that charge.
VSP declined to comment, citing pending litigation.
- Liam Elder-Connors
7. Gov.'s budget proposal includes smaller allocation than what state Climate Council is asking for
Gov. Phil Scott this week laid out his spending recommendations for remaining American Rescue Plan Act dollars. But his allocation for climate is about half what the state's Climate Council is calling for.
Late last year, Vermont's Climate Council told lawmakers and Gov. Scott: Vermont should spend as much as $552 million dollars in ARPA funds on climate solutions.
The council says major investments are essential for the state to meet its first legally mandated emissions goal in 2025.
This week, the governor proposed committing less than half that amount.
Scott's budget puts $80 million dollars towards weatherizing homes. The council called for investing more than $120 million. The council also called for steeper investments in electrifying cars, updating the grid and in flood resilience.
The budget suggestions come as the Legislature is hashing out the details of new programs outlined in the state's first ever Climate Action Plan.
- Abagael Giles
Elodie Reed and Kevin Trevellyan compiled and edited this post.
Have questions, comments or tips?Send us a message or tweet us@vprnet.