Lessons from Irene helped Green Mountain Club trails survive recent flooding
Popular trail networks in the Green Mountain State suffered significant damage in July's flooding — right at the height of the busy summer hiking season.
Many thru-hikers on the Long Trail had to change plans, and some trail sections and access points closed to the public.
But the trail damage could have been a lot worse. That's according to the Green Mountain Club, which maintains the Long Trail network. Since Tropical Storm Irene in 2011, they've been preparing for major flooding by implementing more climate-resilient designs and maintenance on their trails.
To learn more, Vermont Public's Mary Williams Engisch spoke to Mike DeBonis, the Green Mountain Club's executive director. Their conversation below has been edited and condensed for clarity.
Mary Williams Engisch: After the most recent storm, did you get a chance to walk the trails and examine the damage? And can you just describe what you saw?
Mike DeBonis: When the flooding first happened, our first priority was just to get folks out of the woods. So we pulled all of our field staff out and kind of hunkered down at GMC headquarters in Waterbury for a couple of days, and then started to get back out. It's just amazing how wet it was. It was almost like early snowmelt spring conditions. It was just that wet. So we went out and did a rapid assessment really just to look at, "Is the trail navigable? Is the major infrastructure there?" So things like bridges, the Winooski River footbridge, the Memorial Bridge and boardwalks — those sorts of things. Luckily, they were there, but what we really saw was just massive flooding.
The Long Trail that crosses the Winooski River and then parallels the river for a bit was underwater. And there's live fencing; it's an agricultural area. So those areas we closed. There's a portion of the Lamoille River crossing that in dry years, you can just kind of walk across. So that area was closed. We were fortunate that we were able to route the trail on high water routes or alternate ways. If folks wanted to get out there and do it, they could. It would just be a different experience.
How long is the Long Trail?
It's 272 miles, from Massachusetts to Canada.
Okay. And overall, how did that fare after the flooding?
Overall, I think it fared pretty well. We didn't lose any major infrastructure. When you compare that with some previous storms, where bridges were washed out, major portions of the trails were lost — we didn't see that. I think we were really lucky. Some other trail systems in Vermont were not as lucky: Lamoille Valley Rail Trail, Cross Vermont Trail and some of the others got hit much harder. I think some of that could be due to geographic variability, storm variability, but I think it also has to do with the infrastructure that's there.
Well, what were some successes on the club's trails after the flooding? What held up really well?
People in Vermont are great. I think they were really great, particularly thinking about resources and really focusing on communities where the need was greatest. Recreation trails, we all love them — but they're not as important as a lot of other things. So human responses are really good. Then some areas that we've focused on since I would say Tropical Storm Irene, where we saw significant damage. And we knew that just building back the same way wasn't going to work. I think a good example is the Winooski River footbridge that you can see from Interstate-89 in Bolton. That was designed to withstand these types of rain events, and it did. Though the Winooski certainly flooded, but the bridge wasn't impacted. So I think that was a bright spot.
Then on Camel's Hump, we've been working over the last year-and-a-half to essentially rebuild the Burrows Trail. That's a three-year project, and it's rebuilding it from literally top to bottom. We invested in fairly significant rock steps, things that we haven't necessarily put in on other trails to that scale. I remember being on the phone with Keegan Tierney, our director of trail programs, and we're just like, "What if Burrows is gone?" We just didn't know what the impact of the storm would be. When folks went out there, they realized that it wasn't gone. It actually held up really well. Those stone structures did what they were supposed to do; they moved the water off the trail and the structure stayed.
Well, scientists are saying that we're seeing these more extreme weather events under climate change. Vermont even receiving six more inches of rain each year than it did in the 1960s. We understand this isn't going to be the last time that we experience this sort of flooding statewide. What changes did the Green Mountain Club make after Irene, and talk more about how those certain changes helped during this round of flooding?
Yeah, climate change is on all of our minds right now because of what happened in July, but it's been on our minds for years. The recognition, based on some of the research out of Hubbard Brook in New Hampshire, the research station, [found Vermont is] warmer and we're wetter. We're having these higher intensity, higher frequency storm events. The predictability of snowpack is not what it used to be.
So what do you do? We kind of take a two-prong approach. The first is education. We have a backcountry caretaker corps. These are folks that are out there on the Long Trail system every summer. They're at our high-use sites. They're the point of contact with users: educating, helping manage sites and really just making sure that we're doing the best that we can do as a community to manage the resources effectively. So that's the first step, and it's been really successful.
Then the second piece is thoughtful design and construction and really investing in trail infrastructure that can handle the use from people walking on it, which is increasing. Then handle the impact of storms, mostly water, moving water off the trail, keeping it off and trying to keep the surface durable.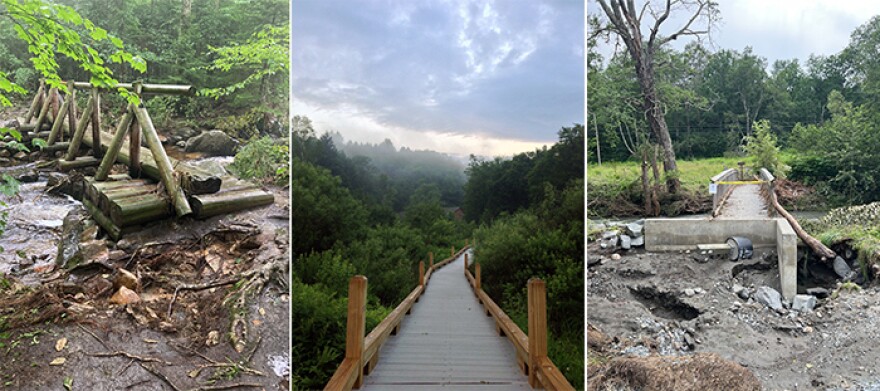 One last question for you, Mike. How do you think climate change is changing the way we're going to recreate outdoors on Vermont's trails in the future?
Yeah, it's such a good question. We do gather some data on trail usage. The early days of the Long Trail, it was just summer. There's a summer hiking season, spring and a little bit into the fall. But people hike all year round. When you look at the data from Hubbard Brook, it's pretty clear that it is getting warmer and wetter, and snowpack is impacted. So you're seeing less snow out there at certain times. We used to have a mud season in spring, and unfortunately, mud season is kind of anytime now. You can have mud anytime of the year. So you're seeing more people out on the trail in times when they weren't normally out there. So you have use in winter.
Then you have these variable conditions; you can literally have spring-like conditions at any month of the year. I think it's just a really interesting time in outdoor recreation because we're dealing with a changing climate. You're also dealing with changes in equipment and infrastructure. People have more access to information than they ever had before. I think that's a wonderful thing because you have more people out there experiencing the resources, but it adds a management challenge. Folks like the Green Mountain Club, we just have to adapt and try to manage the trail resource.
Have questions, comments or tips? Send us a message.