Education Ambassadors support an integrated approach to cross-curricular instructional design, through the lens of multimedia. They serve as a sounding board for Vermont Public, and the
Vermont Agency of Education
, providing professional expertise and insight to inform the development of new resources and ways in which to use existing materials.
This program is part of a partnership between Vermont Public and the Vermont AOE that was launched at the start of the pandemic in 2020 and exists to support Vermont educators and students with education resources and curriculum support. Education Ambassadors network with other educators across Vermont in order to build awareness of educational resource development, PBS Learning Media, teacher support and outreach, including local content (But Why, Mister Chris & Friends, Made Here, Brave Little State, and more).
Meet the 2022-2024 Education Ambassadors!
John Moton
Music Educator
Lamoille Union Middle School
John serves as the Music Teacher/Band Director for students at Lamoille Union Middle School in Hyde Park, Vermont. Before teaching within the Lamoille North Supervisory Union John taught music/band for 9 years across the states of West Virginia and Virginia to students in grades ranging from 4th grade to 12th grade. During the 2021-2022, and 2022-2023 school years, John served as the Technology Integrationist for Lamoille Union Middle and High Schools
where he would spend his time assisting his fellow educators in finding ways to innovate instructional practices in using technology within the classroom. John received an MAT in Music Education from Marshall University and his BA from James Madison University in Harrisonburg, Virginia. In returning to the classroom, John is excited to work with VT Public alongside other Arts
stakeholders throughout the state in finding ways to provide our students and colleagues unique and exciting opportunities for growth inside the classroom and beyond.
Sam Nelson
Middle Level Humanities Teacher
Sam has built a career around education, ranging from teaching Pre-Kindergarten to leading faculty-wide professional development. For the past decade, he has taught middle level Humanities at Shelburne Community School, which is part of the Champlain Valley School District. The "three pillars" of his personalized, project-based curriculum are social justice, environmental justice, and career pathways.
Julia Wayne
Personnel Development Coordinator (Children's Integrated Services)
The University of VermontCollege of Education and Social ServicesCenter on Disability and Community Inclusion
Julia has been supporting students and families as an Early Childhood Special Educator and Preschool teacher across Northern Vermont since 2005. Julia holds a Bachelor of Science in Early Childhood Education and Environmental Studies and a Masters in Early Childhood Special Education from the University of Vermont. Julia founded Oakledge for All (OFA) in 2010, after completing a post-graduate Fellowship through the Vermont Interdisciplinary Leadership Education for Health Professionals (VT-ILEHP). For the past decade, OFA has been a volunteer-led, grassroots organization dedicated to universal design and constructing this region's first fully accessible playground at Oakledge Park in Burlington (oakledgeforall.org). Julia lives in Charlotte with her husband, Matt, three young sons, dogs and some sheep. She plays music in the Vermont-based duet, Mayfly, and has taught music for teachers and students through the Vermont Association for the Education of Young Children (VTAEYC) and Young Tradition Vermont. Julia is a new role at the University of Vermont College of Education and Social Services Center on Disability and Community Inclusion.

Sam Hagen

Executive Director of Go Global Vermont
Sam Hagen currently serves as the Executive Director for Go Global VT. Prior to this role, Sam served in numerous capacities across the private and public education sectors, working as a farm manager, an international programs coordinator, and as the afterschool programs director and development director for the Central Vermont Supervisory Union. Sam received his BS in Forestry from the University of Massachusetts Amherst and is currently pursuing an MS in Community Development and Applied Economics at the University of Vermont. His research takes place at the intersection of community development and education, exploring spatial equality in Vermont's education system. Sam is committed to developing partnerships and programs which contribute to breaking the global pattern of outmigration from rural communities and which support opportunities for youth agency in addressing local and global issues.
Karen McCalla
Teacher Librarian and Technology Integration Specialist | 2022 Vermont Teacher of the Year
Karen McCalla graduated as valedictorian from Lyndon Institute in the Northeast Kingdom and did her undergraduate work at Castleton University, earning her BA Summa Cum Laude in History and Secondary Education. Karen then moved on to the University of Michigan to earn her Summa Cum Laude Masters of Library and Information Science. Karen has been recognized as the Vermont Tech Jam Tech Champion (2019), the Rutland Economic Development Corporation Innovator of the Year (2019) and with the International Society for Technology Education Making IT Happen Award (2017). Karen has taught at Mill River Union since 2002. At Mill River, Karen enjoys finding just the right book for every student, as well as getting kids passionate about STEAM – Science, Technology, Engineering, Art and Math - in the Library Makerspace. In her spare time, Karen coaches FIRST robotics for upper elementary, middle and high school students and volunteers as Executive Director and Maker Evangelist at The MINT: Rutland's Makerspace.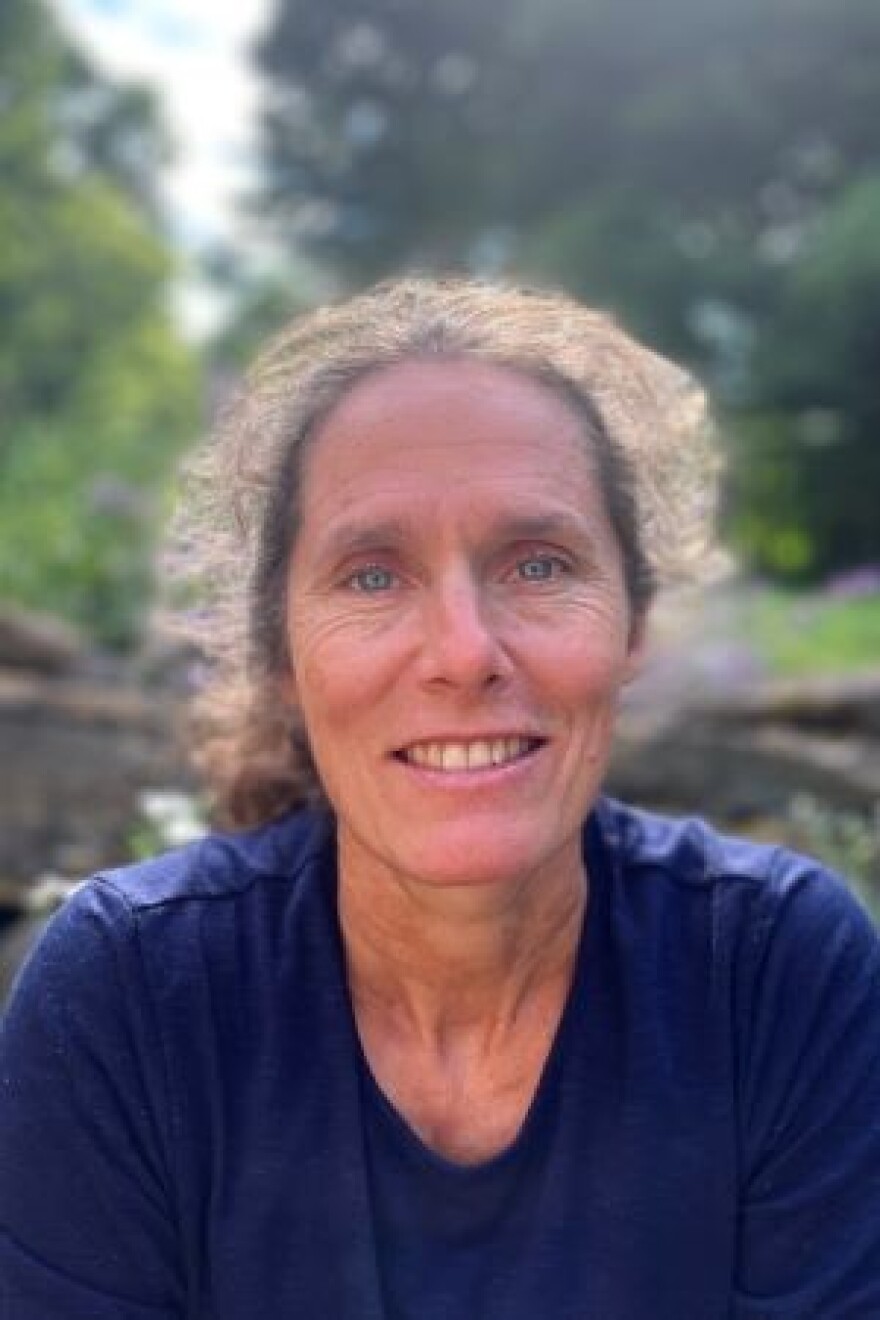 Amy Clapp

Science Teacher
Amy Clapp has been an elementary educator for 24 years at Salisbury Community School both as a general science teacher for kindergarten through sixth grade, and a general education teacher for fourth, fifth, and sixth grade. She has also been the science curriculum coordinator for her school district. Amy has been recognized as ACSD Teacher of the Year (2022), Vermont Teacher of the Year Finalist, (2022) Vermont Academy of Science and Engineering Elementary Science Teacher of the Year (2006), Presidential Award for Excellence in Math and Science Teachers Finalist (2022). She has received fellowships to study in Peru, Japan, China, Costa Rica, and the Arctic.
Connecting students with the outdoors is Amy's passion. She has developed an outdoor classroom that is used weekly by her students, and has helped colleagues develop their own outdoor learning spaces. Her class collaborates with the local Audubon society to coordinate a school wide bird-a-thon each year to raise money for the Audubon's school programs. She has published a beginner's nature guide, called Naturally Literate, that is used in schools across the state. She shares her expertise in outdoor learning through collaboration with Middlebury College's teacher program, and the Vermont Science Teachers Association.
Amy earned a B.A. in anthropology from Colby College, a B.S. in elementary education with certification from University of Montana, and a M.S in elementary science education from the Vermont State Colleges.
Caty Sutton
Co-Director of Curriculum, Assessment & Instruction for the Hartford School District.
Caty Sutton, M.Ed., has been an educator in secondary public schools in Vermont for over 15 years. Caty began her career at Randolph Union as a secondary social studies and English teacher. After teaching for several years, Caty transitioned to a role as the Director of Project-Based Learning and Senior Project Coordinator at Randolph Union while working toward her Principal and Curriculum Director licensure at the Upper Valley Educators Institute. Currently, Caty is the new Co-Director of Curriculum, Assessment & Instruction for the Hartford School District.
Maria Davies
DEI Coordinator, Technology & Career Development
Maria Davies is the
Lamoille North Supervisory District
's Diversity, Equity, Inclusion and Title IX Sexual Harassment Coordinator. Maria loves to work with her whole heart and soul. Maria received a Bachelor's Degree in Political Science and International Law from the City College of New York and is pursuing a Master's Certificate of Graduate Study in Resiliency Based Approaches with Families, Schools and Communities at this time. Maria was raised in New York City but born in Central America and is fluent in Spanish and French. In her District role, Maria was hired to offer the District a unique perspective on how to create a more diverse, equitable and inclusive environment in school(s). Part of her role includes preparing and building relationships among colleagues and with youth through diversity and inclusion education and training. She believes in listening to understand and connecting before correcting or redirecting individuals. Maria uplifts all voices. She is married with two teenagers. She moved here 10 years ago from the U.K. Her family moved from England to Stowe in December 2008.
Mary Schell
Community+School Coordinator, White River Valley Supervisory Union
Mary Schell currently serves as the Community+School Coordinator for White River Valley Supervisory Union. Mary moved to Vermont in the early 1990's because of the vision of progressive education she read about in a green Department of Education (at that time) publication, High Schools on the Move. Although few may recall that time in Vermont, it was a time of excitement to remove barriers and create systems to empower students to become agents of change in their own learning. Vermont was leading the national dialogue and practice for this revolution in education. Mary sees the current commitment to Community Schools through Act 67 as an evolution of Vermonters seeking to create systems for equity, learner agency as well as establishing reciprocal relationships between our schools and communities. Our community schools not only characterize who we are but can mobilize what our schools and communities can be. Prior to serving as Community+Schools Coordinator, Mary has had the opportunity to serve as a secondary social studies teacher at Windsor High School, Twinfield Union School, and collaborate with youth and adult leaders as a Rowland Foundation Fellow and the Director of UP for Learning and Youth and Adults Transforming Schools Together.

Stefanie Seng
School Counselor, Warren School
Stefanie hails from many places. Born in Illinois, raised mainly in Connecticut, past resident of Indiana, California, and Hawaii, and current resident of Vermont. Stefanie has worked as a school counselor at all levels, and is in the second year as an elementary counselor. Licensed in both k-12 school counseling and Career and Technical Education, Stefanie has also worked in wilderness and residential mental health programs, and was a professional actor for several years. Stefanie has a BFA in theatre (CCSU) and an MS in School Counseling (UVM). Stefanie believes in student-led learning and problem solving, restorative practice, and teaching students the skills needed to find meaningful careers. Stefanie is happy with both she/her and they/them pronouns.
We're committed to helping our Educators!
Vermont Public is dedicated to our hard working educators as they welcome students back for another school year. Check out free resources from our partnership with Vermont Agency of Education and Vermont Department of Libraries to meet the anywhere, anytime educational, social and emotional needs of Vermont children.