News roundup: Vt. colleges reporting lower COVID case rates than general population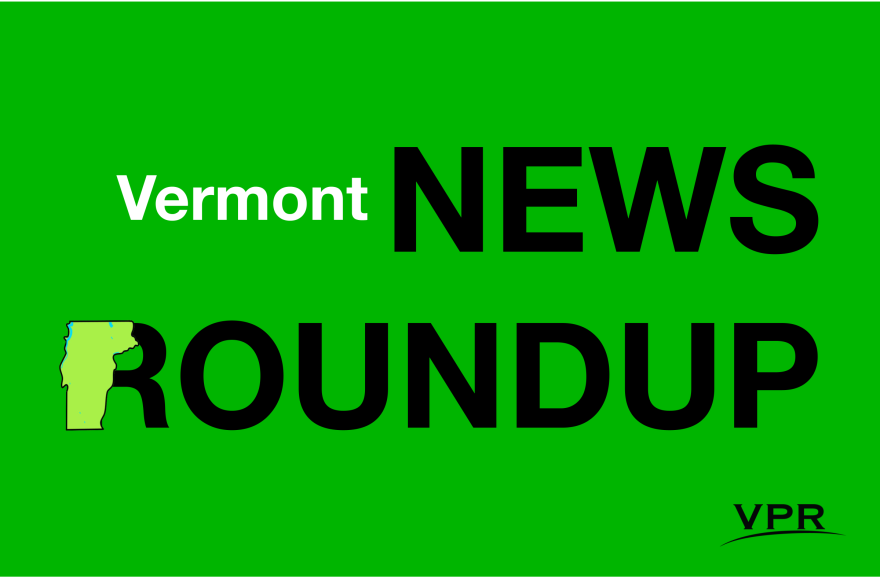 Vermont reporters provide a roundup of top news takeaways about the coronavirus, a bill making it easier for Vermonters to sue police over civil rights violations and more for Thursday, Jan. 27.
Want VPR's daily news in podcast form? Get up to speed in under 15 minutes withThe Frequency every weekday morning. How about an email newsletter?Add our daily email briefing to your morning routine.
While Vermont's pandemic state of emergency has ended, the omicron variant is now circulating around the state.Click here for the latest on new cases, and find the latest vaccination data online any time.
1. Two more Vermonters have died from COVID according to Health Dept.
Two more Vermonters have died from COVID-19 according to the Department of Health.
Vermont's pandemic death toll is now at 529 lives.
Health officials recorded 1,490 new COVID cases Thursday. The state's seven-day positivity rate is 10.8%.
A total of 108 people are currently hospitalized for COVID-19, and 27 of them are in the ICU.
- Elodie Reed
Bennington hospital official is hopeful, despite staff shortages
At Southwestern Vermont Medical Center in Bennington, dozens of staff members are out because of COVID. That's more than last week, or the week before.
And the hospital is still seeing lots of patients, COVID and otherwise.
Despite that, Chief Medical Officer Dr. Trey Dobson says he feels hopeful.
"There is a sense of relief that we have some rough weeks ahead, but we're not going to be overrun with a volume of patients that we can't care for," he said.
Dobson says COVID hospitalizations at Southwestern have plateaued, and appear to be leveling off across the state.
- Lexi Krupp
State lawmakers throw support behind extension of COVID health care regulations
The Vermont House has given unanimous support to legislation that extends a series of COVID-related consumer health care regulations for another year.
The bill allows patients to use telehealth services for out-of-state providers. It also addresses a temporary shortage of nurses and doctors, and it requires health insurance companies to cover the cost of COVID tests.
Essex Rep. Lori Houghton says it's critical to keep these flexible rules in place until at least next winter.
"In many ways providers are experiencing greater challenges today than at any time since March 2020, and these flexibilities are needed to continue to respond to the pandemic," she said.
The bill also enjoys strong support in the Senate.
- Bob Kinzel
Vermont colleges posting lower COVID rates than general public
The amount of per capita COVID cases on Vermont's college campuses continues to be far less than that of the general population.
State officials attribute that trend to their respective vaccination rates. Some 96% of Vermont's college students are fully vaccinated compared to 80% of all Vermonters.
Financial Regulation Commissioner Mike Pieciak says the higher education numbers are an important indicator for the state.
"We had fewer cases on campus this week, although over 300 cases. But that was when colleges were doing significantly more testing as well. So more testing this week on college campuses, but fewer cases identified. So one example of certainly improvement," he said.
Pieciak says last week's positivity rate for college students was just 2.3%, compared to roughly 10% for the entire population.
- Bob Kinzel
N.H. liquor stores will soon sell rapid COVID tests
Rapid COVID tests will soon be available for purchase in New Hampshire liquor stores.
WCAX reports 1 million tests will be delivered to liquor stores next month and sold at a cost of about $13 apiece.
The state of New Hampshire will also be expanding the number of testing locations and vaccination sites.
- Lydia Brown
2. Vt. Senate committee considering legislation making it easier for people to sue police over civil rights violations
A Senate committee is considering legislation that would make it easier for people to sue Vermont law enforcement officers for civil rights violations.
Virtually every police organization in Vermont is speaking out against the bill. Groups including the Vermont Sheriff's Association and Department of Public Safety have urged lawmakers to reject legislation that would eliminate qualified immunity for police officers.
They say the bill "demonizes" law enforcement, and would make it even more difficult to fill staffing vacancies in police agencies.
Steffen Gillom is president of the Windham County branch of the NAACP. He told lawmakers on Wednesday that they'll have to answer an important question as they consider pushback from police.
"Ask yourself this: Were you elected to protect them, or were you elected to protect the people?" Gillom said.
Groups that support the bill say existing laws make it hard to hold officers accountable for even flagrant civil rights violations.
- Peter Hirschfeld
3. Welch calls for potential Russian sanctions
Congressman Peter Welch is urging the Biden administration to work with its European allies to impose harsh economic sanctions if Russia launches an invasion of Ukraine.
Welch says this warning is warranted because Russian President Vladimir Putin has made a series of threatening statements about sending troops into Ukraine.
"It has to be the unified approach of the U.S. and allies that we will impose searing sanctions that will be so punitive that Putin will think twice before he encroaches on the border integrity of Ukraine," he said.
The Pentagon announced this week that 8,500 U.S. troops have been put on "high alert" for possible deployment to Eastern Europe.
- Bob Kinzel
4. Sen. Leahy supports nominating a Black woman for U.S. Supreme Court
Supreme Court Justice Stephen Breyer is expected to step down after serving 27 years on the court.
During his 2020 campaign, then-candidate President Biden pledged to nominate a Black woman for his first opening on the court.
Vermont Sen. Patrick Leahy, who serves on the Senate Judiciary Committee, says the president will have a lot of options.
"There are a number of women of color who are in the judiciary – all of whom would be highly qualified to be a member of the Supreme Court," he said.
Leahy says he hopes the president will make his nomination as quickly as possible.
- Bob Kinzel
5. State lawmakers consider banning racial and ethnic school mascots
The question of whether to retire offensive team mascots has turned school board meetings across Vermont into political battlefields.
Lawmakers are considering a statewide ban on names or mascots that refer to racial or ethnic groups.
Communities like Rutland and South Burlington have faced divisive debates over whether to change their school teams' mascots.
And some lawmakers want to solve the problem by imposing a statewide ban on offensive names and logos.
But Jay Nichols, executive director of the Vermont Principals Association, says lawmakers should proceed cautiously.
"Now I want to be really clear, there are a couple names that we think are really problematic and everybody on the executive council thinks that they are wrong – we just don't know if it should be legislated," he said.
Nichols says the association is also worried that student athletes could be unfairly penalized by the proposal, because schools that disregard the legislation would be banned from sanctioned athletic events.
- Peter Hirschfeld
6. Trade school director says influx of technical education funds could help hire teachers
Gov. Phil Scott says he wants to invest millions of dollars into career and technical education to address Vermont's workforce shortage.
Melissa Connor, director of Stafford Technical Center in Rutland, told Vermont Edition on Wednesday she could use that money to hire more teachers.
"We are finding challenges – particularly in the electrical and plumbing field. We're finding challenges in the health career fields. We're trying to double the capacity of both of those fields for next year, and our biggest obstacle is going to be finding an instructor," she said.
Connor says one of the center's biggest challenges is that trades workers make more money in the field than in the classroom.
Administers are hoping to use new funds to offer incentives for new teachers.
- Connor Cyrus
7. Green Mountain Club hosting virtual speaking events hoping to expand definition of who is outdoorsy
The Green Mountain Club, a nonprofit that helps maintain the Long Trail, will host two virtual speakers hoping to expand the definition of who is outdoorsy
Kara Richardson Whitely is slated to speak tonight at 7 p.m. as part of the group's long-running Outdoor Adventure Speaker Series.
Whitely is an author, mountain climber, and advocate for the plus-sized community.
She says a growing number of retailers are taking steps to be more inclusive, but there's still a long way to go.
"Old Navy did something very interesting where they took out the section you know – it's not a plus sized section or women's section or quote-unquote "women's section" or whatever," Whitely said. "It's just all clothes."
Perry Cohen with The Venture Out Project is slated to speak on Feb. 3. More information is available online at greenmountainclub.org.
- Marlon Hyde
8. Vermont welcomes new state librarian next month
Next month Vermont will welcome new state librarian Cathy Delneo.
She comes with more than 25 year of experience in public libraries, and most recently, was the chief of branches for the San Francisco Public Library.
She starts the new job mid-February.
Speaking to Vermont Edition Wednesday, Delneo explained the role libraries play, and how that's changed during the pandemic with more people needing access to the Internet.
"Our public libraries are a place for that really valuable connection to the internet, and to that information that's online," Delneo said. "And then additionally, our libraries are convening spaces – they are places where we have amazing public programs"
Delneo grew up in Chittenden County. In her free time, she plays the cello and is an open water and ice swimmer.
- Connor Cyrus
Elodie Reed and Kevin Trevellyan compiled and edited this post.
Have questions, comments or tips?Send us a message or tweet us@vprnet.