News roundup: State officials again report record-breaking COVID numbers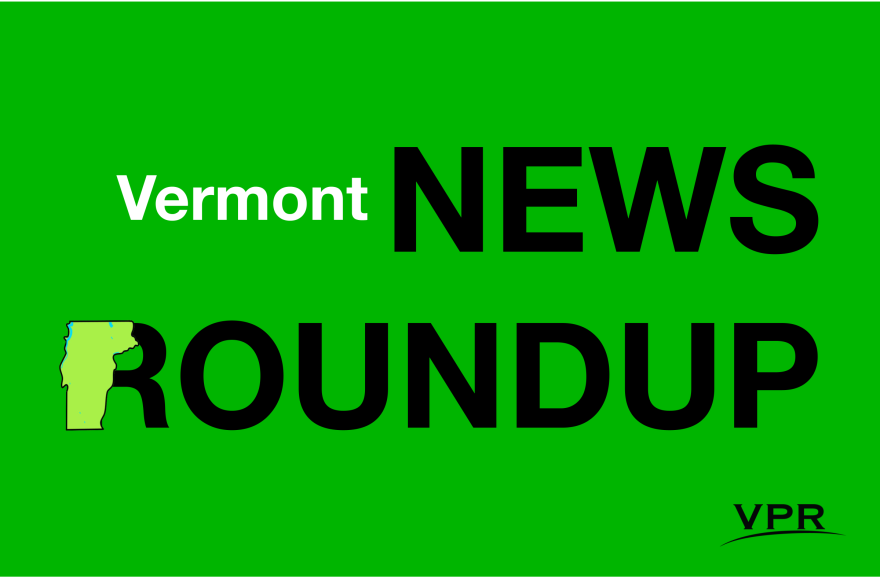 Vermont reporters provide a roundup of top news takeaways about the coronavirus and more for Thursday, Jan. 6.
Want VPR's daily news in podcast form? Get up to speed in under 15 minutes with The Frequency every weekday morning. How about an email newsletter? Add our daily email briefing to your morning routine.
While Vermont's pandemic state of emergency has ended, the omicron variant is now circulating around the state. Click here for the latest on new cases, and find the latest vaccination data online any time.

1. Health officials report another record-breaking day for COVID cases Thursday
Health officials reported another record-high number of new COVID-19 cases in Vermont on Thursday, with 2,188 new cases added.
A total of 91 people are currently hospitalized with the virus. Of those, 17 are in the ICU.
No new deaths were reported, leaving the statewide death toll at 482.
- Lydia Brown
Health officials say 12- to 15-year-olds can get COVID booster shots
Now 12- to 15-year-olds in Vermont can get booster COVID shots, according to the state Department of Health.
Immunocompromised kids under 12 are also eligible for a third dose.
Parents and caregivers can register for vaccine appointments onlineor by phone.
The move follows a CDC announcement Wednesday night recommending that young people receive booster shots five months after their first two doses.
The agency cites data from more than 25 million kids showing that boosters add further protection against omicron and other variants.
- Lexi Krupp
Hospitals weathering high COVID rates
Leaders at multiple hospitals in Vermont say they're far busier than a typical holiday season. But they're not in crisis mode.
That's true at Southwestern Vermont Medical Center in Bennington, where there have been some of the highest COVID case rates in the state in recent weeks.
Dr. Trey Dobson, SVMC's chief medical officer, says most COVID patients in the hospital aren't vaccinated.
Those who are vaccinated are almost all elderly or have serious underlying medical conditions.
He's bracing for more COVID patients as case numbers climb.
"I do feel that really the next 30 days are the most tenuous in our region," Dobson said.
Dobson says another challenge is staff testing positive.
But changes in CDC guidance have allowed health care workers without symptoms to get back to work more quickly.
- Lexi Krupp

2. Governor says he's optimistic about Vt.'s economic recovery in State of the State address
Gov. Phil Scott says he's optimistic that Vermont is poised to make a strong economic recovery in the coming years.
In his State of the State address on Wednesday, Scott said the combination of tight budgeting since 2017, and the recent influx of more than $1 billion of federal COVID relief funds, puts the state in a unique position to expand its workforce in the coming years.
"Five years ago, I said, 'When you're in a hole stop digging.' My friends, today I am happy to report we are out of that hole, and we are sitting on a pile of bricks, mortar, lumber and steel," he said. "Let's grab hold and start building."
Scott says he'll ask lawmakers to support efforts to expand workforce development opportunities as quickly as possible.
- Bob Kinzel
Vt. Dem leaders say their agenda largely mirrors governor's
The Democratic leaders of the state House and Senate say their legislative agenda largely mirrors the priorities that Gov. Phil Scott outlined in his State of the State address on Wednesday.
And Senate President Pro Tempore Becca Balint says her chamber looks forward to working with Scott on workforce development, affordable housing, childcare and other programs for working Vermonters.
"On the broad strokes, there isn't a lot of distinction, I think because we're all hearing the same thing from Vermonters," Balint said.
Balint says the legislative process will likely reveal disagreements between the two branches of government over how to accomplish their shared goals.
But she says she anticipates a civil and collaborative process as the session unfolds.
- Peter Hirschfeld

3. Scott administration requesting additional mental health services funding
Community mental health agencies across Vermont are contending with a 20% vacancy rate in staffing.
The Scott administration is asking lawmakers to spend $15 million on recruitment and retention incentives.
The 16 state-funded agencies that provide community-based mental health services in Vermont had been struggling with staffing even before the coronavirus pandemic. But Administration Secretary Kristin Clouser says the situation has become more urgent over the past two years.
"The workforce challenges impacting Vermont's home- and community-based services have been significantly amplified by the COVID-19 pandemic," she said.
Clouser has asked lawmakers to address the staffing problem by allocating $18 million to fund retention bonuses and also to subsidize education opportunities for aspiring social workers.
The administration's plan includes an additional $15 million in workforce spending, and for home health agencies, skilled nursing facilities and other direct care workers.
- Peter Hirschfeld
Scott administration proposes using COVID aid for affordable housing
The Scott administration on Tuesday unveiled a proposal that would put another $75 million in federal ARPA money toward affordable housing.
Administration Secretary Kristin Clouser says $20 million would be used to help prospective landlords renovate older housing units.
"With this $20 million, the goal is to create 400 new units to serve households for folks who are homeless and families who are in need of quality, affordable housing," she said.
Clouser says the administration wants to give another $50 million to the Vermont Housing and Conversation Board for multifamily housing and shelter expansion.
The administration will need approval from lawmakers in order to move forward with the spending plan.
Lawmakers will review the proposal in the coming weeks.
- Peter Hirschfeld
4. GOP state legislative leader reluctant to raise taxes
As Vermont lawmakers head into the new legislative session, House Minority Leader Patti McCoy says passing big social safety net measures, like paid family leave, comes down to the price.
McCoy, who is a Republican, told VPR's Vermont Edition on Wednesday that her party is reluctant to fund childcare and paid family leave bills that could raise taxes on individuals who may not use them.
"You know, it comes down to the cost and can we afford it? You know it's a cost to businesses. It's a cost to employers who employ individuals. What can they afford?" she said.
The legislative session began this week remotely instead of in person due to surging COVID case counts.
- Mary Engisch
5. Vermont Human Rights Commission says discrimination cases up in 2021
The Vermont Human Rights Commission says there were more cases of discrimination last year, even though the number of calls went down due to the pandemic.
The commission says there are a couple of factors that led to fewer reports of discrimination. There was an eviction moratorium in place last year, which led to fewer housing complaints.
And with schools and state offices closed, there were also fewer discrimination allegations.
Still, a recently released report says the commission investigated more calls, and ultimately found that discrimination had occurred in more cases than it had in previous years.
The commission heard 16 cases last year, compared with 12 in 2020.
- Howard Weiss-Tisman

6. Police searching for missing Newport teen
Vermont State Police are searching for a missing teen from Newport.
Police say 16-year-old Lillian Wright was last seen Wednesday between 11 a.m. and 2 p.m. leaving a house on Route 100 in Lowell.
Wright was wearing a blue hooded sweatshirt, black leggings and carrying two black backpacks.
Anyone with information on the teen's whereabouts is encouraged to contact the Vermont State Police in Derby.
- Karen Anderson

7. Colchester motel guests displaced due to water main break
Guests at the Motel 6 in Colchester have been displaced after a water main break Wednesday night.
WPTZ reports Colchester Police responded to the break and evacuated guests from more than 60 rooms.
Police say many of the guests were placed at the motel through the state's emergency housing program.
All displaced guests will be provided temporary housing.
- Lydia Brown

8. Vt.-based credit union working to develop first-in-state Islamic law-compliant lending program
A Vermont-based credit union is working to develop an Islamic law-compliant lending program.
VTDigger reports the aim of the Opportunities Credit Union program is to help Muslim Vermonters buy homes.
The program would be the first of its kind in the state.
- Lydia Brown

9. New England power grid operator projects rise in energy consumption as heat, transportation go electric
New England's power grid operator says as many northeastern states push to electrify heating and transportation in order to reduce their carbon emissions, energy consumption is projected to go up.
Eric Johnson with ISO New England told House lawmakers Wednesday that demand for electricity could more than double by 2050.
Most of that will be met by energy produced by offshore wind, hydro power and solar. But sunshine and wind don't always line up with peak demand.
"So we're going to need some sort of stored energy in that timeframe, and this need will intensify as we electrify other parts of the economy in New England," Johnson said.
Right now, a lot of quick, on-call electricity comes from natural gas. Johnson says the ability to store energy generated by "carbon free" options will be essential for use on cloudy or calm days.
- Abagael Giles
Elodie Reed and Kevin Trevellyan compiled and edited this post.
Have questions, comments or tips? Send us a message or tweet us @vprnet.