News roundup: Vermont officials report 151 COVID cases, 2 more deaths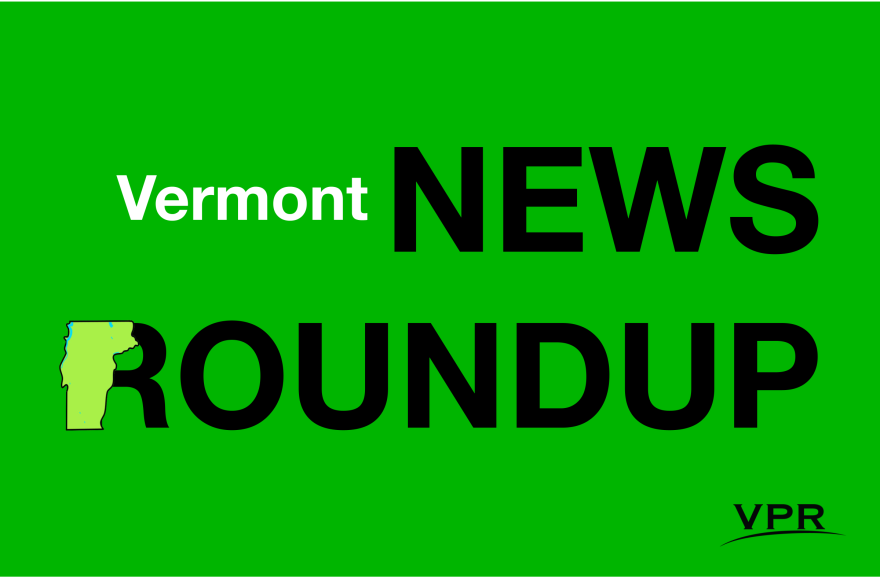 Vermont reporters provide a roundup of top news takeaways about the coronavirus and more for Thursday, Oct. 14.
Want VPR's daily news in podcast form? Get up to speed in under 15 minutes withThe Frequency every weekday morning. How about an email newsletter?Add our daily email briefing to your morning routine.
While Vermont's pandemic state of emergency has ended, the delta variant is now circulating around the state. Click here for the latest on new cases, and find the latest vaccination data online any time.

1. Health officials report 151 cases, 2 new deaths
The Health Department reported 151 cases of COVID-19 today, and two new virus-related deaths.
A total of 342 Vermonters have now died during the pandemic.
The positivity rate — the percentage of all coronavirus tests performed that are positive — rose to 3.5%.
Forty-seven Vermonters are hospitalized. And just under 90% of eligible residents have gotten at least one dose of a vaccine.
- Brittany Patterson

2. Border reopening "great news" for northern Vermont, Scott says
Gov. Phil Scott says a decision by the Biden administration to reopen the Canadian border is "great news" for the economy of northern Vermont.
The border has been virtually shut down to nonessential travel since March of 2020.
Under the new plan, announced Wednesday, individuals entering the country by land from Canada and Mexico will have to show proof of full vaccination.
Canada began allowing vaccinated Americans in August.
Scott says the ban has hurt travel and tourism businesses in the border region.
"It's great news for us, for Vermonters, and as you know we've been advocating for this with other governors for months," Scott said in an interview with VPR. "We're thrilled that they made the decision, so this will be significant for the economy in those regions of the state."
Scott says the reopening of the Canadian border will be beneficial for families with members on both sides of border, who will be able to reunite after months apart.
The new policy is expected to go into effect in the middle of November.
- Bob Kinzel
More from NPR: The U.S. will soon allow nonessential travelers from Canada and Mexico again

3. Historic marker in Guilford celebrates Black poet Lucy Terry Prince
The state has erected an historic marker to honor the life of Lucy Terry Prince, an African American poet and activist who lived in Guilford in the late 1700s.
Terry Prince wrote what is recognized as the oldest known poem by an African American.
The poem, which tells the story of an attack on settlers in Deerfield, Massachusetts in 1746, existed as an oral ballad for 100 years and was first printed in the 1850s.
Enslavers stole Terry Prince from Africa and brought her to Deerfield. She became free after marrying Abijah Prince in 1756.
The historic marker will be unveiled Tuesday, Oct. 19, at 11 a.m., at the I-91 welcome center in Guilford.
- Howard Weiss-Tisman
4. Report on possible new Burlington High School locations finds downtown could be pricey
An assessment of potential sites for a new Burlington High School finds keeping the school downtown is likely to cost more and take longer than other options.
The report was crafted by real estate advisers White + Burke with the help of a team of consultants.
Seven Days reports the group assessed three potential locations — two sites on the existing campus in the New North End and a downtown option.
While Mayor Miro Weinberger has said he supports relocating the high school downtown, the consultants told the district this week that finding enough space for students and parking would be expensive and time-consuming.
The campus has been closed since September 2020, when polychlorinated biphenyls, or PCBs, manmade chemicals banned in the U.S. in 1979 due to their toxicity, were found in the buildings. The school board, in May, voted to build a new school.
- Brittany Patterson

5. Brattleboro chooses new town manager
Brattleboro has chosen a new town manager. Yoshi Manale, a former deputy mayor of Trenton, New Jersey, accepted the job this week.
The Bennington Banner reports the town select board received nearly 100 applications for the job, after current manager Peter Elwell announced his retirement in April. Elwell has served in the role since 2015.
Manale has worked in state and local government in New York City and New Jersey. He's originally from Silver Spring, Maryland. He's scheduled to take over as Brattleboro's town manager in December.
- Henry Epp
6. Flynn Center to hold grand reopening next Saturday, Oct. 23
Burlington's Flynn Center is preparing to reopen to the public for the first time since the start of the pandemic.
The theater will host a grand reopening celebration next Saturday, Oct. 24. It will feature multiple artists, including local storyteller Ferene Paris Meyer.
Meyer is also a teaching artist at the Flynn and calls the space her creative home.
Speaking to VPR's Vermont Edition on Wednesday, Meyer said she asked a class of Burlington High School students what they thought the reopening event should convey to the community.
"Words around love, and authenticity, and calmness, and being real, and open mind — these were some of the words that these students were gifting us to be the intention of next weekend," she said.
The Flynn opened in 1930. Its upcoming season will include concerts, dance performances and a diversity speaker series.
- Mikaela Lefrak
6. Mount Mansfield yet to freeze
Vermont's tallest mountain has set a record for the latest date without the temperature dropping below freezing.
The nearly 4,400-foot-tall Mount Mansfield hasn't seen freezing temperatures since late May, marking the latest known date without a hard freeze.
The National Weather Service says that previously, the latest freeze on record for the mountain came on Oct. 6, 2011.
The first freeze usually comes in mid-September. The coldest it's been so far this fall was 37 degrees in late September. The forecast for the next several days does not include temperatures that approach freezing.
- Associated Press
Brittany Patterson compiled and edited this post.
Have questions, comments or tips?Send us a message or tweet us@vprnet.
Corrected: October 14, 2021 at 2:24 PM EDT
A previous version of this story misstated the COVID case positivity rate.