News roundup: Vermont Dept. of Health logs second highest one-day COVID-19 case count since the start of the pandemic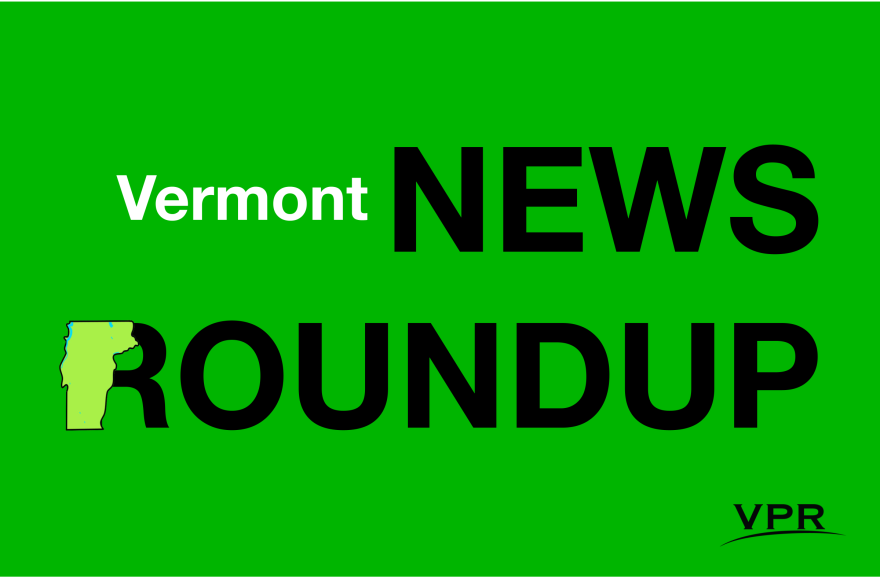 Vermont reporters provide a roundup of top news takeaways about the coronavirus, a push to add to the state's Threatened and Endangered Species List and more for Thursday, Oct. 7.
Want VPR's daily news in podcast form? Get up to speed in under 15 minutes withThe Frequency every weekday morning. How about an email newsletter?Add our daily email briefing to your morning routine.
While Vermont's pandemic state of emergency has ended, the delta variant is now circulating around the state. Click here for the latest on new cases, and findthe latest vaccination data online any time.
1. Vermont Dept. of Health reports 287 new COVID-19 infections
Vermont health officials reported 287 new COVID-19 infections Thursday.
It's the state's second-highest number of new cases in a single day so far in the pandemic, eclipsed only by the 330 cases reported three weeks ago on Sept. 15.
There were 48 cases each in Chittenden, Orleans, and Washington counties.
The health department also says one more Vermonter has died from the virus, the 328th coronavirus fatality in the state so far.
Hospitalizations number 35, including eight people in intensive care.
To date, 88.4% of eligible Vermonters are at least partially vaccinated, while 79% are fully vaccinated.
— Matthew Smith
Just about anyone who received a Pfizer COVID019 vaccine more than six months ago is eligible for a booster
The state of Vermont is encouraging people who are eligible for a vaccine booster shot for protection against COVID-19 to get one.
Human Services Secretary Mike Smith says he'd like to see more Vermonters get the booster shot. Currently, the booster is available to people who received the Pfizer vaccine more than six months ago.
There's a broad list of who is eligible for the booster, including those 65 andolder, people over the age of 18 who have certain health conditions, members of minority groups, and people who could be exposed to the virus through their work.
Smith says the definition of who is eligible includes "just about anybody that's over 18."
— Brittany Patterson
Cases drop among college students
The number of college students testing positive for COVID-19 has fallen to its lowest level yet this semester.
Mike Pieciak is commissioner of the state's Department of Financial Regulation, which analyzes the bulk of Vermont's COVID-19 data.
He says 95% of Vermont's nearly 30,000 college students are fully vaccinated.
In the past week, only 19 students tested positive.
"Again, just a good indication that when you have a 95% vaccinated population you see the cases stay very low even when cases are more elevated in the communities in which those colleges are located," Pieciak said.
But while college students have a high level of vaccination, Pieciak says only about 55% of Vermonters between the ages of 18 and 29 are fully vaccinated.
— Bob Kinzel
New York state's COVID-19 vaccine mandate for health care workers goes into effect Thursday
New York state's COVID-19 vaccine mandate for all health care workers means hospice and home health care workers in the state have to get at least one dose of a vaccine by Thursday, or face the prospect of losing their job.
North Country Public Radio reportsthe mandate extends to workers at mental health facilities in November.
New York Gov. Kathy Hochul said those without at least one dose of the vaccine could be terminated.
A vaccine mandate for other healthcare workers took effect last week, and so far, more than 92-percent of workers having gotten vaccinated.
— Matthew Smith
N.H. governor calls for removal of state representative from legislative fiscal committee over spread of misinformation
Republican Gov. Chris Sununu is calling for the removal of GOP state Representative Ken Weyler from his position as head of the legislative fiscal committee because of misinformation he is sharing about COVID-19.
A Democratic committee member released a statement Monday saying Weyler claims that live creatures with tentacles are entering people's bodies through the vaccine and that technology is placed in it to control people's thoughts.
Sununu said Monday he has "repeatedly expressed" to House Speaker Sherman Packard the need to remove Weyler from his leadership position.
Weyler did not comment. Packard didn't immediately respond to an email.
— The Associated Press
2. Some superintendents voice concern over new school testing program
Some Vermont superintendents are voicing concern over a new COVID-19 testing program.
The Scott administration recently announced the plan, called "Test to Stay," which would allow students who are close contacts of a COVID-19 case to take an antigen test to avoid quarantine.
But administering the program on top of other responsibilities seems like a logistical challenge to Julie Regimbal, superintendent of the Missisqoui Valley School District.
"We don't have anyone in any of our schools where we don't have people substituting for everything," Regimbal said. "The principals are subbing, all the teachers are subbing for each other — there's a staffing crisis."
Secretary of Education Dan French said this week that his agency lacks the personnel to help districts.
Regimbal says she's waiting for more details on the plan to come from the state, expected next week.
— Anna Van Dine
3. Everyone Eats Program to continue through the end of the year
A program that provides nearly 20,000 meals each week for Vermont families will continue through the end of the year.
The Everyone Eats program pays local restaurants to prepare meals for Vermonters facing food insecurity.
It was originally scheduled to end in September, says Jean Hamilton, the statewide coordinator.
"We realized both that the pandemic is not going to go away that quickly — the economic impacts will be here for longer than we imagined," Hamilton said. "But also, we just didn't anticipate the impact of delta and the numbers would go back up."
Hamilton says funding from the Federal Emergency Management Agency enabled the partnership between restaurants and meal distribution sites to keep going.
She anticipates increased need for meals this winter.
— Lexi Krupp
4. Vermont Legislature to apologize for the state's role in the eugenics movement
The leaders of both chambers of Vermont's Legislature will hold a press conference on Oct. 16, to apologize for the state's role in the eugenics movement.
In the first half of the 20th century, state-sponsored programs tried to change the gene pool in Vermont through sterilizing and institutionalizing Indigenous people, French-Canadians, and people who were mixed-race, poor or disabled.
Don Stevens is chief of the Nulhegan Band of the Coosuk -Abenaki Nation.
Speaking Wednesday on Vermont Edition, he said the apology is a good first step. But he also wants to see more policies that actively improve the lives of Abenaki Vermonters.
"We're still Vermonters, right? We're still incorporated in the community. So how are they actually focusing on our needs?"
The public apology will take place on the State House steps in Montpelier.
— Mikaela Lefrak
5. Sen. Sanders calls for specifics from Sen. Joe Manchin, on how to reduce the size of the budget bill
Sen. Bernie Sanders is calling on his West Virginia colleague, Joe Manchin, to specifically outline what programs should be cut in order to reduce the size of the so called 3.5 trillion dollar "social" budget bill.
The bill, which includes new money for child care, paid family leave, climate change, affordable housing, and Medicare, is tied up in the Senate because Manchin and Arizona senator Kyrsten Sinema say it's too expensive.
At a D.C. press conference Wednesday, Sanders said it's time for Manchin to get specific.
"So Sen. Manchin has a right to fight for his point of view — he has not only a right to be heard, he has a right to get some compromises — he's a member of the Senate," Sanders said. "But two people do not have the right to sabotage what 48 want and what the president of the United States wants. That, to me, is wrong."
Senate Democratic leaders are hoping to resolve this issue in the next few weeks.
— Bob Kinzel
6. Congressman Welch calls for federal regulators to hold Facebook accountable for misinformation on their website
Congressman Peter Welch says federal regulators need to hold Facebook accountable for the authenticity of information on their web site.
This week, a former employee and whistle blower told Congress she is aware of efforts by Facebook to develop algorithms that encourage political conflict and promote information that's harmful to young people.
Facebook has denied the charges.
Welch says one way to make Facebook more transparent is to make the company responsible for information that they post.
"Right now, Facebook can publish anything it wants. They're not considered a publisher. Whereas, if that was in the local newspaper, that paper could be sued for libel and that's one possible way to go, so that there would be some self monitoring by the Facebooks of the world," Welch said.
Welch says he supports efforts to create a new federal regulatory agency to provide oversight.
— Bob Kinzel
7. Scientists say Eastern Meadowlark could be experiencing more severe population decline than older data suggested
The Eastern Meadowlark has been recommended for Threatened status, under Vermont's Threatened and endangered Species Rule.
The listing would give the yellow-breasted grassland bird special protections.
The most recent published data show its distribution in Vermont shrank by 55% over the last quarter century.
But Kevin Tolan, a staff biologist with the Vermont Center for Ecostudies, says the picture may be more dire. He oversaw a more recent survey, to count Eastern Meadowlarks this past summer.
Tolan says preliminary data show about 90 breeding adults remain in Vermont.
"And combine that with how rapidly they're declining ... The difference between going from 100 birds to 25 birds could be five years, or it could be 20 years, depending on the population size we're estimating now," Tolan said.
Members of the public can email comments to the Agency of Natural Resources until Oct. 13.
— Abagael Giles
Abagael Giles compiled and edited this post.
Have questions, comments or tips?Send us a message or tweet us@vprnet.
Corrected: October 7, 2021 at 5:15 PM EDT
A previous version of this post reported the Vermont Center for Ecostudies found 90 breeding pairs of Eastern Meadowlarks in their 2021 survey. In fact, they found 90 breeding adults. The story has been updated accordingly.