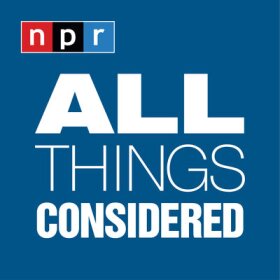 Weekdays from 4:00pm to 6:30pm
In-depth reporting has transformed the way listeners understand current events and view the world. Every weekday on All Things Considered, you'll hear breaking news mixed with compelling analysis, insightful commentaries, interviews and special - sometimes quirky - features.
>> Visit the All Things Considered website for more detailed program information.
Jurors have questions for former Trump lawyers Rudy Giuliani and John Eastman as well as others who advised the former president's attempts to reverse his defeat in 2020.

Now that the Supreme Court has struck down Roe v. Wade, experts warn that prosecutions will increase for miscarriages, stillbirths and self-induced abortions.

Even as the Jan. 6 hearings play out, election misinformation keeps spreading. NPR tracked four leaders preaching false information about election fraud at hundreds of grassroots events nationwide.

The U.S. Supreme Court, in a 6-3 decision, ruled that the Environmental Protection Agency does not have the authority to mandate carbon emissions from existing power plants.

An NPR/Ipsos poll shows a stark partisan split on laws that prevent transgender youth from accessing medical care for gender transition.

56% of Americans disapproved of the decision in an NPR/PBS NewsHour/Marist poll conducted after it was announced. A similar number say it was motivated by politics — not law.

Physicians must treat in line with patients' wishes and standards of care. Some medical ethicists say that abortion bans will force doctors to disregard these obligations in order to follow the law.

The U.S. Supreme Court has overturned the constitutional right to an abortion, reversing Roe v. Wade, the court's five-decade-old decision that guaranteed a woman's right to obtain an abortion.

PFAS are all around us, so how do we navigate a world filled with harmful chemicals? We speak to an expert who guides us through what PFAS are, why they're a problem, and what can be done about them.

Most Americans have recently been affected by extreme weather and support efforts to protect against future disasters, a new survey finds. And many people suffer long-term financial problems.