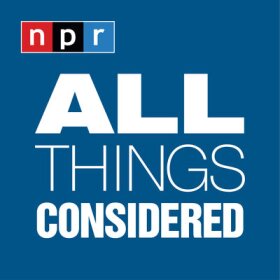 Weekdays, 4-6:30 p.m.; Weekends, 5-6 p.m.
On May 3, 1971, at 5 p.m., All Things Considered debuted on 90 public radio stations.
In the more than four decades since, almost everything about the program has changed, from the hosts, producers, editors and reporters to the length of the program, the equipment used and even the audience.
However there is one thing that remains the same: each show consists of the biggest stories of the day, thoughtful commentaries, insightful features on the quirky and the mainstream in arts and life, music and entertainment, all brought alive through sound.
All Things Considered is the most listened-to, afternoon drive-time, news radio program in the country. Every weekday the two-hour show is hosted by Ailsa Chang, Mary Louise Kelly, Ari Shapiro and Juana Summers. In 1977, ATC expanded to seven days a week with a one-hour show on Saturdays and Sundays, which is hosted by Michel Martin.
During each broadcast, stories and reports come to listeners from NPR reporters and correspondents based throughout the United States and the world. The hosts interview newsmakers and contribute their own reporting. Rounding out the mix are the disparate voices of a variety of commentators.
>> Visit the All Things Considered website for more detailed program information.
As the holiday approaches, infectious disease specialists are bracing for the possibility that big family get-togethers and travel will propel the spread of RSV, flu and COVID-19.

The cash represents an unprecedented opportunity to derail the opioid epidemic. But with countless groups advocating for a share of the pie, the impact could depend heavily on geography and politics.

Rising prices are a top concern for voters in this year's midterm elections, outpacing abortion, crime and defending democracy. Prices in September were up 8.2% from a year ago.

In Iowa's competitive 3rd Congressional District, candidates and voters are talking about the same issues as those everywhere else. That's part of a long-growing pattern.

A new report from Greenpeace found that people may be putting plastic into recycling bins — but almost none of it is actually being recycled. Meanwhile, plastic production is ramping up.

Hundreds of thousands of Venezuelan migrants have been released into the U.S. Now many are stuck in a complicated legal limbo: They're legally present for now, but unable to work lawfully.

A special task force is investigating claims and freezing accounts to determine who legitimately qualifies for the relief money. About $20 billion in unemployment money was stolen by criminals.

The shift in hearing health care is due to a recent rule change by the FDA, which recently cleared the way for the devices to be sold in retail stores without the need for buyers to see a doctor.

President Biden is going to pardon people convicted for simple marijuana possession under federal law or D.C. statute — and will review whether pot should still be classified as a Schedule 1 drug.

The number of women in the workforce has finally returned to pre-pandemic levels, which is good for the economy. But after time away from the job market some women are reassessing their priorities.