As protest continues at Connecticut College, students say they feel victimized by the school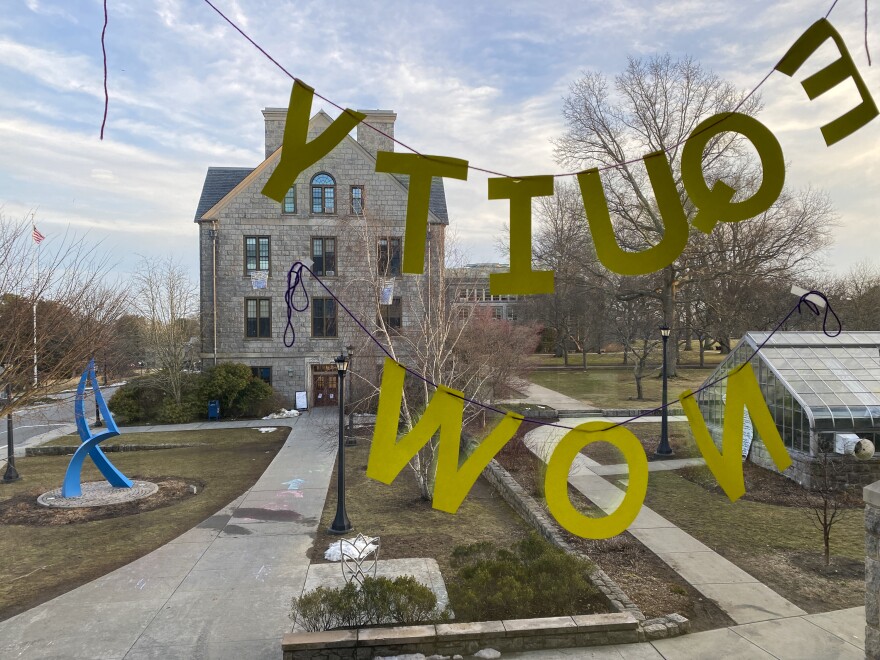 Connecticut College students on Friday continued to occupy Fanning Hall, the school's administration building, in response to the college president's canceled fundraising trip to a Florida social club accused of discriminatory practices against Black people and Jews. However, some students say they are also protesting because they feel victimized by the college.
Student Voices for Equity, a student organization, hosted an event Thursday night, where students accused the New London college administration of poorly responding to student complaints, from bullying to sexual assault.
Students who spoke at the event said the experiences made them feel unsupported. One group leader said a statement released Wednesday by the school's president, Katherine Bergeron, is not enough and once again demanded her resignation.
Connecticut College has generated weeks of headlines, sparked by a planned fundraiser at the Everglades Club in Palm Beach, Florida, which has a history of not extending membership to people who are Black or Jewish and reportedly turned away Sammy Davis Jr. The college canceled the fundraiser, and Bergeron issued an apology.
The school's dean of institutional equity and inclusion resigned over the planned fundraiser.
On Feb. 26, students started occupying Fanning Hall. Along with criticizing Bergeron, they've been advocating for more resources to marginalized students and diversity, equity and inclusion staff.
Students continued to occupy the building over the weekend and said in a note on Saturday that they'll remain in the building until "we are confident real action will be made toward meeting our demands."
One student, Xenia B., who declined to give her last name, spoke at Thursday's event about an experience where she claimed the college bungled its response to her friend who she said was sexually assaulted by another student, even after students previously warned staff about the student before the incident.
"Eventually he ended up [sexually assaulting] my friend soon after," Xenia said. "Campus police, no one gave advice of how to gather evidence for this, and as I moved through as a witness for the Title IX case, it was clear that all that Connecticut College wanted to do was to avoid a lawsuit."
She said the event negatively affected her mental health, forcing her to take a semester off. But she says the sexual assault case isn't the only time she felt unsupported. She is also a first-generation college student, and she said she struggled to navigate Degree Works, an academic monitoring site where students can check their academic progress. She said she only got help after she was recommended to a staffer, trusted by marginalized students,.
A Connecticut College spokesperson, John Cramer, did not respond to a request for comment addressing the student's allegations.
But according to the school's latest available crime report for 2021, five incidents of rape were reported on campus in 2019, and five in 2020. Ten were reported in 2021.
Cramer issued a statement saying the college board will continue to work on a solution for students.
"The Board of Trustees will continue to pursue constructive dialogue with students, faculty, and staff as we address the important concerns that have been raised," Cramer said.
In a letter sent to the college on Wednesday, Bergeron said she and trustees are "prepared to make significant additional investments in our DIEI division, programs, and practices."
Bergeron said she has been "profoundly moved and humbled by the outpouring of frustration, anger, and disappointment from all quarters and by the overwhelming demand to bring our practices into alignment with our vision of Connecticut College as a more inclusive and equitable community."
Other students spoke about their experiences, including an undocumented, transgender student who wished to remain anonymous. The student says he tried out for the rowing club and alleged the coach was transphobic.
Another student said they faced racism from their white roommates and ended up moving to another dorm. Other students spoke about the school's inaccessibility to those with disabilities.
While some students accused the school of victimizing them, others said the protests have brought them together with a new sense of community.
Some students felt disconnected and isolated but have found a common purpose, according to Niamani David, a 19-year-old sophomore and the co-founder of Student Voices for Equity.
"It's just beautiful to see the new connections being made, the strangers that are crying and hugging each other, to see my friends inside of buildings waving that haven't showered for two to three days, and they're making all of these sacrifices," David said.